All revved up: a teen's first set of wheels
Big or small? Used or new? Who pays for gas? So many decisions to make about teens' cars.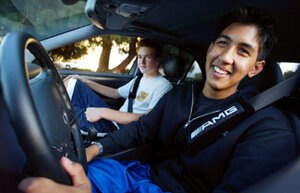 Robert Harbison/The Christian Science Monitor/File
As the mother of a 16-year-old son, Nancy Sayles Kaneshiro remembers the family's conversations when he wanted to buy a car.
"First he wanted a truck, then a Lincoln Town Car, then a reconditioned police car," says Mrs. Kaneshiro of Woodland Hills, Calif. "We said no. We wanted him to have a fuel-efficient car, a safe car, and one we could afford."
Their search, conducted primarily online, took weeks. Finally they settled on a 1989 Honda that had been serviced by the same mechanic Kaneshiro used. After a few improvements – a coat of midnight-blue paint, a spoiler from a salvage yard, and a sound system – the gleaming car was ready to transport Ian to school, baseball practice, and social activities.
"It's cool," his friends say.
As a new school year begins, automobile showrooms and used-car lots are sprinkled with families undergoing a rite of passage: choosing a first car for a teenage daughter or son. Questions about safety, reliability, and affordability loom large for parents, who must balance their offspring's desire for something sporty or "cool" with their own preference for a more modest and safer sedan – or maybe a Sherman tank.
"It's the parents' responsibility to help their kids through this process and not just be bullied by their kids that they must have a new Mustang," Kaneshiro says.
---