Marriages follow the ups and downs of the economy
During tough economic times, couples find that financial problems can affect their marriage.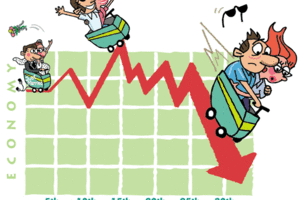 Scott Wallace - staff
Life changed in June for Thomas and Jennifer Dodson of Sacramento, Calif., when he was laid off by the architecture firm where he worked. He immediately started his own consulting firm. Although the work is rewarding and fulfilling, it continues to be an "immense struggle," he says.
Yet he praises his wife for being "more than great" throughout this experience. "She has been a rock. Despite the stress and turmoil this has brought into our life, this has made us closer than ever. I don't know how people do it without the support of their spouse. Having that other person there whispering in your ear and telling you you can do it is so powerful."
As families face layoffs, shrinking retirement funds, and credit-card debt, economic uncertainties can test marriages and relationships. Some couples, like the Dodsons, are finding renewed strength and closeness.
Others will head for divorce court. Still others are trying to solve their differences in more amicable ways. Whatever the circumstances, Howard Markman, codirector of the Center for Marital and Family Studies at the University of Denver, reminds couples that even though they don't have control over what happens with their employment, they do have control over their support for each other. "Focus on what you can control," he says. "That's your marriage and your family."
---
Follow Stories Like This
Get the Monitor stories you care about delivered to your inbox.