Adult children back in the nest
The economic downturn is one reason families are combining households.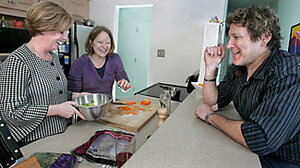 Tony Avelar/The Christian Science Monitor
Like most adults, Sara Tree never expected to move back home with her mother. As the parent of grown children herself, she had long prized her independence. But two years ago, after losing her job, she had nowhere to go but her mother's one-bedroom apartment in Santa Barbara, Calif. Although she has been employed since then, her most recent job ended in December.
"My mom has been extraordinary in allowing me to share her space," says Ms. Tree, who asks to be identified by her pen name. "I have no privacy, but I have learned to live with that."
It is a refrain familiar to many who must double up with relatives. As pink slips proliferate and foreclosures multiply, more families are rolling out the welcome mat – sometimes hesitantly – to give shelter and support to relatives in need. The American dream of living under a roof of one's own is being downscaled. Now some displaced residents long simply to have a room of one's own.
According to the 2007 US Census, 3.6 million parents live with adult children, up from 2.3 million in 2000. Almost 3.5 million siblings live with a brother or sister, up from 3 million. And more than 6.5 million people share quarters with other relatives, up from 4.8 million. Their ranks continue to grow.
In the process, families find that these arrangements require liberal amounts of patience, sharing, and compromise.
---