Hunger Games and Olympics spawn new generation of archery fans
The Hunger Games heroine, Katniss – and the coming Olympics – have created a boom in the archery business, as all across the country a new generation of young archery enthusiasts polish their prowess with the bow and arrow.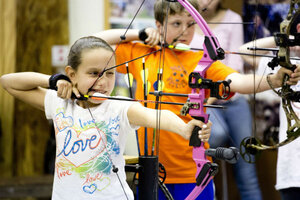 Charles Sykes / AP
In schools and backyards, for their birthdays and out with their dads, kids are gaga for archery four weeks into the box office run of "The Hunger Games" and less than 100 days before the London Olympics.
"All of a sudden sales of bows have, like, tripled," said Paul Haines, a salesman at the Ramsey Outdoor store in Paramus, N.J.
A manager there made a sign for the hunting department: "Quality bows for serious archers and girls who saw the movie," he said.
Archery ranges around the country have enjoyed a steady uptick among kids of both sexes since the movie began cleaning up at the box office March 23, though heroine Katniss – a deadly shot with an arrow – seems to resonate more with girls.
"Katniss is so inspiring," said Gabby Lee, who asked for archery lessons for her 12th birthday in February after reading the wildly popular book trilogy by Suzanne Collins.
"I'm not very sportsy," she offers, but now she belongs to a youth archery league near her Hasbrouck Heights, N.J., home. "It feels really good because I'm usually the girl who sits and reads."
---