Prom costs on the rise: gowns and shoes and limos, oh my!
Prom season in America is an important time in the lives of many teenagers. But some parents are finding the costs – for the gowns, shoes and limos, just for starters –are on the rise, making the annual rite of passage too expensive.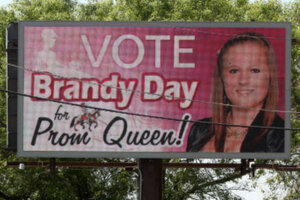 AP
It's a period during the high school year when the economic disparity between the privileged and not-so privileged becomes more evident, and popularity contests are waged with formal attire, after-parties, limousines and ... billboards.
Waiting at the intersection of W.S. Young Drive and Veterans Memorial Boulevard, drivers were captivated last month by a pink rotating outdoor sign: "Vote Brandy Day for Prom Queen!"
The billboard message, along with similarly vibrant print ads and more subdued fliers, were purchased by Tammy Day, mother of the senior who campaigned to wear the crown at the Harker Heights High School prom.
Tammy Day said she took a collection from family and friends to help pay for the advertisements, and hoped they'd give her daughter an unforgettable prom.
"She's my only child and she's all I have," said Tammy Day. "This is her last school year and school means an awful lot to her."
Brandy Day said she joked to her mother about using a billboard to advertise her bid for prom queen and was surprised when she found out her mother followed through. "I was joking, but she took me seriously. When she texted me a pic of the billboard and the newspaper, I was shocked."
Giving her daughter the perfect prom didn't come cheap. In total, Tammy Day estimated the one-time event cost about $1,200 to $1,300.
---