Bed bugs: How not to bring them home from summer vacation hot spots
Bed bugs (ick!) hitch rides on summer vacation. With new data on the nation's bed bug hotspots – Philadelphia is No. 1 – there are tips on how not to bring them home.Hint: keep luggage and clothes in the bathroom.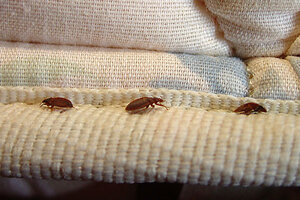 Courtesy of Orkin, LLC
Terminix released its ranking of the top 15 cities with bed-bug infestations today (based on the number of calls in each market), raising public awareness of how people can avoid these nasty insects during the busy summer travel months.
The problem with the steady increase in bed bugs is that they are showing up more in public places such as schools, hospitals, and theaters, says Stoy Hedges a Terminix entomologist.
As bed bugs hitch rides on purses, luggage and clothes, and find a person to feed on, one female or a few eggs can grow and reproduce.
RELATED: Are you a Helicopter Parent? Take our quiz!
"Most infestations don't rise to nightmare level with hundreds, but a few bed bugs is enough to be concerning," says Mr. Hedges.
Researchers do not know why bed bugs appear more in certain geographic areas (Ohio has three cities on the top 15 list), but they are widespread across the US.
---