Teen Vogue protest: More demands for unaltered photos
Teens protested outside the offices of Teen Vogue on Wednesday, demanding that the fashion magazine stop altering its photos and use diverse models. Last week, Seventeen magazine promised to stop altering its images.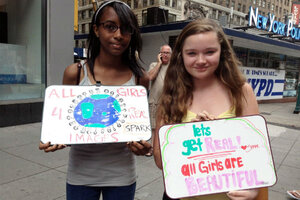 Leanne Italie/AP
Days after a campaign led by a 14-year-old girl secured a promise from Seventeen magazine not to alter body shapes in photographs, more teens protested against Teen Vogue on Wednesday with "Keep it Real" signs and a makeshift red carpet.
About half a dozen girls high-fived each other as they catwalked near the magazine's office in Times Square. They've collected more than 28,000 signatures in just over a week asking Teen Vogue to follow Seventeen's lead in declaring an end to digitally manipulating images.
The girls, affiliated with the protest group SPARK Movement, said Teen Vogue and other magazines read by vulnerable young readers present an unrealistic notion of beauty, threatening their self-esteem and leading to depression and eating disorders.
One of the protest organizers, 17-year-old Emma Stydahar of suburban Croton-on-Hudson, was a Teen Vogue subscriber in middle school.
"I remember looking through these magazines and thinking, 'Oh I wish I had her legs. I wish I had her waist.' It was, like, this is what beautiful is and this is what I look like," she said.
---