Teenage dating: Program advises teens on how to break up safely
Start Strong, a nationwide program, aims to teach teens how to prevent dating violence. At a 'Break-Up Summit' in Boston, local public health officials talked with teens about healthy relationships.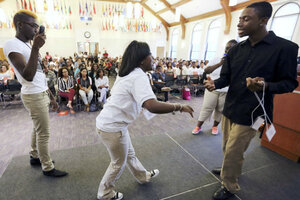 Michael Dwyer/AP
Andrew Curtin said it happened at least twice at his Boston-area high school in the last year. Angry about a breakup, a boy ended up at the school nurse's office with a broken hand after punching a locker or a wall.
"You don't think about when you see two people walking down the hall, 'Are they in a bad relationship or is it good?'" the 17-year-old Waltham High School senior said Thursday.
But he was among about 250 teenagers doing a lot of thinking about healthy relationships at a seminar at Simmons College on Thursday. And the dating advice was coming from an unlikely source: city government officials.
Boston's Public Health Commission partnered with local social service agencies to put on its third annual "Break-Up Summit" for teens as part of a $1 million, four-year grant from Robert Wood Johnson Foundation.
Nationwide, the $18 million program known as Start Strong is aimed at teaching teens in 11 cities to prevent dating violence. Counselors in Boston on Thursday focused on teaching teens to end relationships in ways that don't spark negative behavior like cheating, public humiliation, or worse.
Nicole Daley, who heads Boston's Start Strong program, said a bad teenage relationship can lead to problems like depression, low self-esteem, falling academic grades, and even unwanted pregnancies in cases where one partner tries to manipulate the other. There's also the risk of a physically dangerous confrontation.
"In popular media, cheating is seen as an excuse for violence," Ms. Daley said.
Recent studies by the Centers for Disease Control and Prevention showed about 10 percent of students nationwide reported a boyfriend or girlfriend had physically hurt them in the last year. CDC statistics also showed that among adults who were victims of rape, physical violence or stalking by an intimate partner, 15 percent of men and 22 percent of women first experienced some kind of partner violence when they were between 11 and 17 years old.
---