Are you 21? New York City looks to raise minimum age to buy cigarettes
New York City proposed a change to its policies governing cigarette purchases that would ban the sale of a pack of smokes to customers under 21-years-old. Cigarette companies have not yet responded directly to the proposal, scheduled for a hearing May 2.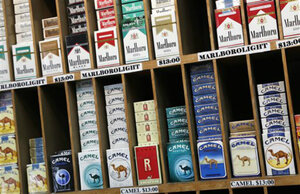 Associated Press
After years of striving to set a national agenda for curbing smoking, New York City may set a new bar by becoming the most populous place in America to raise the minimum age for buying cigarettes to 21.
A new proposal would increase the threshold from 18, a federal minimum that is the standard in many places. Four states and some communities have raised the age to 19, and at least two towns have agreed to raise it to 21.
But a change in New York would put the issue in a big-city spotlight, as the city did by helping to impose the highest cigarette taxes in the country, barring smoking at parks and on beaches and conducting sometimes graphic advertising campaigns about the hazards of smoking. Another proposal, floated last month, would keep cigarettes out of sight in stores.
City officials and public health advocates have praised the city's aggressive stance on smoking as helping people live better, while smokers and cigarette sellers have at least initially complained that various restrictions were nannyish and bad for business — a debate that may well be reprised over the age limit.
The measure aims to stop young people from developing a habit that remains the leading preventable cause of death, City Council Speaker Christine Quinn said as she announced the plan Monday. Eighty percent of the city's adult smokers started lighting up before they were 21, officials say.
"Our responsibility today is to do everything we can to reduce," the number of young people who start smoking, Quinn said.
---