A class for teenage moms taught by a teenage mom: 'I did it, and you can do it'
Teenage moms, beset with low graduation rates and paltry earnings, tend to give birth to babies with troubles of their own. Teenage moms, officials say, do not understand the consequences of lifestyle decisions on their newborns. Enter Kathy Newport, educator.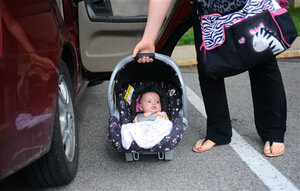 AP
Low graduation rates and meager earnings plague the population of teen moms, a variety of research has found. But it's not just the young mothers whose lives are changed by pregnancy.
Their babies often suffer, too.
A fact sheet prepared by the National Campaign to Prevent Teen Pregnancy indicates children born to teen mothers are more likely to be born prematurely and at a low birth weight. A low weight at birth raises the odds of a variety of medical issues ranging from sensory and mental impairments to infant death.
Many of those issues stem at least in part from behaviors of the mother before childbirth. The Purdue Extension indicates that many teens don't understand the consequences that behaviors like poor eating habits, smoking and marijuana or drug use can have on their unborn children.
Kathy Newport, instructor for 17 years of the Cass County Purdue Extension's "Have a Healthy Baby" program, said she's seen fewer teens coming through her class in recent years, but more of those who do take the class have been younger, in their freshman or sophomore year of high school.
At that age, she said, many don't realize that something as simple as an unbalanced diet can adversely affect a developing baby. Substance abuse takes a harder toll.
"My goal is to come into the classroom and tell the girls, if you are doing drugs and alcohol, stop now," she told the Pharos-Tribune.
The "Healthy Baby" program Newport teaches spans six lessons developed by Purdue University and is funded locally this year by a mini-grant from Partners for a Drug-Free Cass County. It's designed to help pregnant teens deal with daily nutritional choices and the relationship of lifestyle choices to the health of a baby.
---