Royal baby name mystery a logistical mess for souvenir makers
As 'royal fever' gets the world in a frenzy, souvenir manufacturers are feeling glum. They don't know the royal baby name or gender, and they know it'll be a mad designing and manufacturing dash once they do.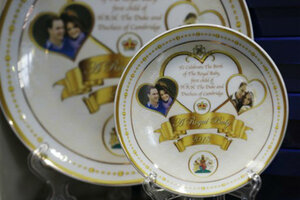 AP/Sang Tan
It's a royal bonanza — but for Britain's souvenir makers, also a royal headache.
The upcoming birth of Prince William and his wife Kate's first child is a golden opportunity that comes with a mystery: the name and gender of the baby.
It all means that, while merchants have known for months that the future heir to the throne is due in mid-July, they'll be sent into a mad dash to create, or at least put finishing touches on, royal baby memorabilia.
Sophie Allport, a designer of fine bone china, is one manufacturer waiting for the future monarch's name to send her commercial plans into motion. She has thousands of pre-orders for hand-crafted commemorative mugs but can't fill them until the baby's name can be etched on the rims.
She's as ready as she can possibly be — having prepared both blue and pink designs depending on whether it's a prince or princess.
"We've never done something like this so I hope it works," said Allport, whose designs, once written, will be scanned, mailed or even driven by courier to the city of Stoke-on-Trent, the center of Britain's ceramic industry.
Be it Alexandra, George or Elizabeth, or any of the other names touted as possibilities, Stoke-on-Trent's workers will then apply Allport's designs to 10,000 mugs, which then will be fired in huge kilns and finished with a ceramic glaze.
---