Spanish women pick up the old traditions of lacing to connect with ancestral past
Generations of Spanish women gather at the base of the Arc de Triomf to exemplify their time honored tradition of lacing.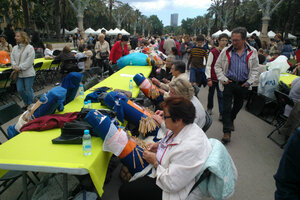 Maya Kroth
It's a sunny Sunday morning at Arc de Triomf, the arch-shaped monument situated on a long rectangular plaza normally dominated by break dancers, street performers and young people on rollerblades, skateboards and bikes—but not today.
Today the plaza is packed with what look to be at least two thousand Catalan grandmothers, seated at long tables stretching as far as the eye can see. On a stage underneath the arch, a quartet plays traditional music while costumed dancers perform a folk dance involving a pair of gegants, enormous papiermaché puppets that are a staple at cultural events in Catalunya. The women sit in chatty clusters of five or six, their hands busily working a complex of threads and pins stuck into cylinder-shaped pillows.
"It's an international meeting of lace-makers," explains Teresa Sabater as she works on the lace for a bridal handkerchief. Hundreds of tiny pins hold the pattern in place on her pillow, organizing an intricate web of individual crisscrossed threads. Dozens of small wooden spools dangle from the threads, looking a bit like the barbs that hang from a bull's collar during a bullfight, albeit not so gruesome.
As traditions go, lacemaking may not be as old as bullfighting, but it is surely more important to Catalunya, which outlawed the corrida in 2011. Catalan lacemaking dates back to the 1600s, and the tradition remains strong in the villages of the Maresme region of the Costa Brava, where smaller gatherings of lace-makers are held nearly every weekend when the weather is good.
Throughout Spain, lace—whether made by hand or machine—has long been a part of important family functions, from the decorative lace that dresses up the table for special occasions to the delicate mantillas worn by women during Holy Week, inspiring masterpieces by Picasso, Goya and Velasquez. Two hundred years ago, daughters learned the basics of the craft at their mothers' feet; by their wedding day, young women were expected to equip their new homes with a trousseau full of lace-trimmed linens, stitched by the bride's own hand.
---