Could PBS Kids Barney be an extinct T. rex – in a good mood?
(Read article summary)
When we saw the photos of the big fuzzy – but extinct – T. rex that scientists in China discovered, we couldn't help wonder about the PBS Kids Barney and what this means for evolution of kids' toys.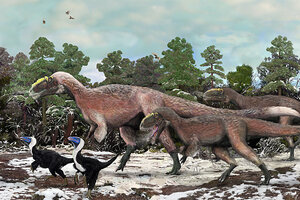 Brian Choo/Beijing Institute of Vertebrate Paleontology and Paleoanthropology/AP
I feel bad even writing this (it doesn't seem fair to give parents even more to keep them up at night) but a great piece the other day by the Monitor's science writer, Pete Spotts, made us at Modern Parenthood wonder: Could the PBS Kids Barney be real?

The news, in case you missed it, is that scientists have discovered the remains of a great, big, fuzzy dinosaur – the first one that could be, well, Barney-like in appearance. (Pete assures us that it was not, in fact, purple, but we're not letting down our guard.)

Since dinosaurs are big around here (most households with kids go through at least a short T. Rex phase, even if they miss Barney and Friends), we asked Pete to tell us more. Will this new creature change the image of Tyrannosaurus Rex? Will we soon see stuffed dinosaurs covered with feathers? (Hello, choking hazard.) Is there any chance that this Barney-like creature has modern day descendents?
RELATED: Dressed to kill: A feathered tyrannosaur is discovered in China
Here's his parent slice of the story:
---