Obama Romney dog wars: cultural lessons for the dinner table
(Read article summary)
"Obama eats dog!" "Romney cages dog on car roof!" Wipe away the political rhetoric and the dog wars is a great dinner table topic about different cultures.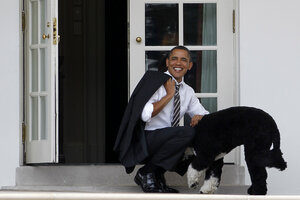 Pablo Martinez Monsivais/AP
Oh, the teachable moments that are coming out of the 2012 presidential campaign. Forget the mommy wars. Forget health care, the economy and taxes - today we have the President Barack Obama dog controversy and the Mitt Romney versus Obama dog wars.
Can't wait to explain this one to the kiddos. Nothing like headlines that scream "Obama eats dog!" to start a conversation at the breakfast table. (And make the family pooch a bit nervous.)
But swipe away some of the hot political rhetoric and there actually are some lessons – non partisan ones – to talk about with kids.
To recap, the current twist in the War on Dogs comes after a long time criticism of a revelation, first reported in 2007, that on a 12-hour drive from Massachusetts to Canada in 1983, the Romney family put their dog, an Irish Setter named Seamus, in a crate on the top of their car. It was the only thing to do, they explained, because with all those kids there wasn't any room in coach.
---