Bullying: Teens take the lead as anti-bullying mentors, advocates
(Read article summary)
Bullying prevention starts with teens, and in communities around the country they are taking the lead as anti-bullying leaders, advocates, and mentors for their peers. It is an inspiring trend at a time when several high-profile teen suicides have been linked to bullying.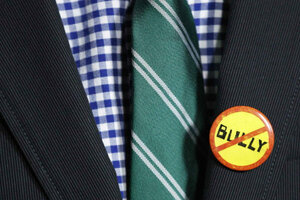 Danny Moloshok / Reuters
Probably any number of things could inspire a student to become an activist, but in 16-year-old Ali's case, it was "an English homework assignment about marginalized groups in society," The Gazette, in Lisbon, Iowa, reported. "She realized they needed a voice," apparently thought about how kids can get marginalized in bullying types of situations, and e-mailed Lisbon Community Schools' dean of students, Terese Jurgensen with an idea for a bullying prevention program. Apparently Ms. Jurgensen was impressed with the thoughtfulness of Ali's message and offered her support.
"A gathering of a few student council representatives led to the initiative for 'The Voice'," a program that has high school student council members both teaching and supporting elementary students on an ongoing basis (the older students go to elementary classes two to three times a month and become their "hallway friends" in this K-12 school).
All 28 members of the volunteer council supported the idea, which was key to the program's success.
In what sounds like very wise advice, Jurgensen and her fellow administrators told these student activists, "You have to live it. You have to teach it." The high school students knew younger students looked up to them but now they were becoming role models. "In an October retreat the council identified types of bullying – physical, verbal, cyber – as well as social alienation and intimidation. It came up with a three-point pledge: be strong, stand up, use your voice."
---