Giuliana Rancic expecting, joins celeb surrogate trend
(Read article summary)
Giuliana Rancic, the E! News host, says she and husband, Bill Rancic, are expecting their first child, via gestational surrogate, this summer.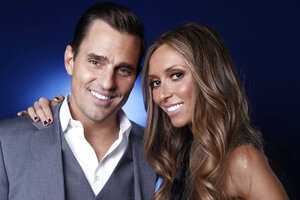 AP
Giuliana Rancic, the host of E! News, and her businessman husband Bill Rancic, announced yesterday that they are having a baby. And the internet is going crazy.
See, Ms. Rancic's isn't just another celebrity pregnancy. In fact, Giuliana isn't really, technically, traditionally, pregnant at all.
After years of struggling to conceive – the emotions around which they shared on their Style Network reality series "Giuliana & Bill" (strange world, no?) – the couple said yesterday that a gestational surrogate would be giving birth to their child this summer.
"We are so thrilled that our prayers have been answered," they wrote in a statement. "We are absolutely ecstatic to be sharing this with everyone who has been following our journey."
Surrogacy – where another woman carries a couple's child, either with her own or an implanted embryo – is one of the more controversial methods of infertility treatment in the US. And if you go by celebrity news, it seems to be increasingly common:
---