Letting kids play: celebrating low-tech toys
(Read article summary)
Low-tech toys can be overshadowed by the razzle-dazzle of the electronic toy industry, but that doesn't mean all parents have forgotten the joys – and educational benefits – of a cardboard box and some string.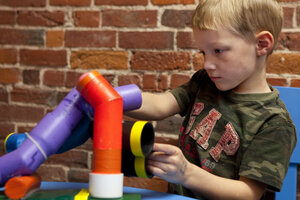 Melanie Stetson Freeman/The Christian Science Monitor
Last January Wired Magazine ran a story on the Five Best Toys of All Time. Which toys did the high-tech, gadget-and-gizmo friendly magazine (or at least the Geek Dad section name as the best? The stick, the box, string, the cardboard tube, and dirt. Not an electronic toy in the bunch. And, even more, all of these are simple, available (if not free), and provide open-ended play. Two are found in nature.
The internet went nuts with this story, as person after person — parents, teachers, nature advocates, play experts, and people who simply sense that today's children grow up too quickly — passed this story around. With all the holiday advertising and shopping, and all the craze for the flashiest and the latest, a writer was advocating that kids go play in the dirt.
When Anna was small, I noticed that she was happy for hours with simple things — dirt, water, grass, a tire swing, paper, scissors, glue. She spent about a year being fascinated with adhesive tape — pulling, cutting and laying it down on paper, creating cardboard box-and-tube cameras and "candy machines". She didn't seem to need or want anything more expensive, complicated or "educational" than that. I've found this is often the case if we slow down, adjust our ideas about what is normal or expected, and let our children and our own instincts guide us.
---