Mother's Day 2012: Is mothering the hardest job of all?
(Read article summary)
Mother's Day 2012 is coming up, and the recent Ann Romney versus Hilary Rosen flap has focused attention on the issue of mothering as a job. If it's the hardest job of all, as our blogger believes, why don't parents get the same training as workers in other tough jobs?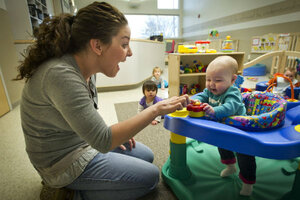 Andrew Laker/The Republic/AP
Thanks to Democratic strategist Hilary Rosen's comment about Ann Romney (stay-at-home mom and wife of presidential hopeful Mitt Romney) never working a day in her life, the subject of mothering has come to the fore once again – just in time for Mother's Day.
While I believe that parenting, whether done primarily by a mother or a father, is indeed the hardest and most important job anyone will ever undertake, I do not think that society as a whole gives mothering any more than lip service. Take Mother's Day. On Mother's Day we give moms a pat on the back, fulfilling our obligation. And then we're done with it.
If being a mom is really the hardest job, then why do we not feel the need to go beyond this once-a-year recognition and give parents every opportunity to do the job well?
We certainly consider doctoring a critically important job, hence the years of training necessary to do it. We need education to drive a car, fly a plane, work in a bank, be a neighborhood watchman. But giving birth requires no education at all. We place so little value on the job of mothering that it's easy for a highly educated woman to make the comment that Mrs. Romney has never worked a day in her life.
---