Parenting with limits: Avoiding the "cool parent" trap with teens
(Read article summary)
Parenting with limits can be hard to do, especially with teens. Every parent wants to give their child the world, our teen experts acknowledge. But they also say great parents know that limits are important. Research shows that many teens actually appreciate boundaries.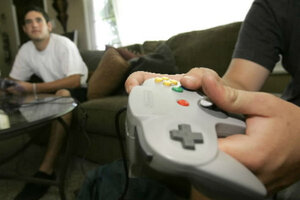 Tony Avelar/The Christian Science Monitor
It is hard to set a limit sometimes. You love your child and you want to give her everything including eternal happiness. Unfortunately, as you know, part of the role of a parent is to disappoint; to set a limit with your child that she perceives as unfair or even punitive.
You know you are making a decision in your teen's best interests, but making the decision and delivering the news are two separate things. Usually it's the second part that makes the situation uncomfortable.
When your teen has a negative reaction to your limit setting (which is often the case) the focus of a parent then becomes tolerating her negative reaction. Maybe he storms off and slams his door and blasts his music, perhaps she tells you she hates you and retreats to her room to text or call her support network of friends. You hear her sharing the news about how unfair and ridiculous she perceives the decision. Sometimes it is the glare of vehemence your teen gives you when you deliver the news, or the instant sadness that furrows his brow that challenges you, making you wish you could back off, take it back, although you know you must stand your ground.
---