Katie Holmes-Tom Cruise divorce: dealing with religious splits
(Read article summary)
The Katie Holmes-Tom Cruise divorce news makes this author wonder how the couple's daughter, Suri, will deal with the alleged split in her parents' religious views. The author was a year older than Suri when her own parents – a Jew and a Roman Catholic – divorced.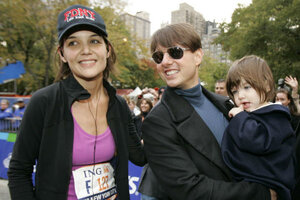 Kathy Willens/AP/File
As fans gird themselves for the cataclysmic marital revelations expected to emerge at any moment from the impending divorce of actors Katie Holmes and Tom Cruise, I can only think about the spiritual insanity awaiting little Suri.
Suri, 6, is just one year younger than I was when my parents divorced and decided to leave the choice of my religion to me. We were in process of moving out of New York City to New Jersey. In my case, a religious riff was also in the mix. I became the spiritual football as my parents beat each other up both physically and emotionally.
My maiden name is Goldenthal. My father, God rest him, was Jewish, my mother a Roman Catholic. I celebrated Passover and Easter, Christmas and Hanukkah. My mother gave me a little gold cross and my father bellowed, "If Jesus died today, would you all wear little gold electric chairs around your necks?"
Oy Vey!
It was the 1970s, a crazy time in the church when nuns were suddenly spotted on beaches in bathing suits or singing with a guitar. My mother, partially excommunicated when she married a Jewish man was being reinstated as the divorce took place. The loophole was that the marriage was then considered never to have taken place in the eyes of the church. I was told by my local priest that I was "illegitimate in the eyes of the church."
---