Piggy bank versus tzedakah box: Learning to save – and give
(Read article summary)
A tantrum over getting a desired toy turns into an opportunity to teach a 4-year-old about charity, helping him to decide whether to put his change in the piggy bank or the tzedakah box.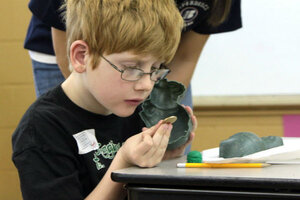 Nikki Carlson/Havre Daily News/AP
My 4-year-old flailed on the floor of the pet store, screaming that he wanted a toy. I ignored his wailing and bought shells for his new pet, Squirty.
At some point, Squirty, a hermit crab, will outgrow his shells and decide it's time to move into a new one. My son could care less about Squirty at this moment. Somewhere in the store, he had spotted a superhero toy. I'm not sure what it was. I suspect it was actually a dog toy.
"We are here to buy something for Squirty, not you today. I can't buy you a toy every time we set foot into a store," I said, knowing my explanation might not get through during the height of my son's angst.
Still, maybe the message would sink in later. Simon continued wailing as I scooped him up, carried him to the car, and buckled him into his car seat. "I want a superhero toy," he said, tears streaming from his eyes. His face was bright red.
I had grand ideas when we stopped at the pet store on our way home from a weekend in Vermont. This would part of learning how to be a pet owner, a lesson about being responsible for something other than himself. OK, his pet is the ultimate in low maintenance. Squirty lives in a two-inch long shell and lives on miniscule amounts of water and this food we bought called Hermit Crab Food Pellets. Squirty does not require walking or grooming. In fact, he prefers if we leave him alone. But since he is not living near his food supply, Squirty needs us to survive.
We had 90 minutes left of the car trip. Simon spent most of the next 30 minutes fussing that he still wanted a toy. Lately, anywhere we have gone, Simon has expected me to buy him something. Too often, in recent weeks, I have relented. On a trip to the Museum of Science in Boston, he ran into the gift store and pointed at a large ladybug he wanted – for $6. I led him to a section with smaller, cheaper toys. He chose a $1.99 ladybug. At a children's musical, he got a $10 flashlight toy. At the Fourth of July fireworks, I bought him a light-up star wand. I flushed red a few days later when a friend raised her eyebrows at seeing Simon with the toy. She had seen me buy him the first one the previous week.
---