Kristen Stewart: Unwholesome mix of tween idol and adult romance?
(Read article summary)
Kristen Stewart and Rupert Sanders have publicly apologized for their infidelities, breaking the hearts of Tweens who idealized the romance between 'Twilight' stars Stewart and Robert Pattinson.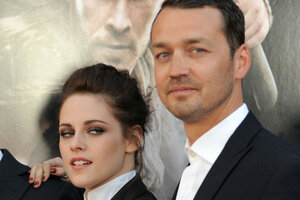 Jordan Strauss/Invision/AP
Oh, Kristen Stewart and Rupert Sanders – giving tweens everywhere a lesson in real life this week.
That's right, fans of "Twilight," the young adult book series and movies, have been distraught ever since they learned that their beloved, star-crossed, 50 percent vampire couple, Bella and Edward, are not living the fairy-tale romance so many had imagined.
But before getting into the details, I will back up, for those who might have been out of the pop culture loop. (Vampires? Lovers? Kristen Stewart?)
In 2008, Ms. Stewart starred as Bella, the female protagonist of Stephenie Meyer's young adult book sensation, "Twilight." The basic plot of the Twilight series is that Bella, decidedly not the most popular girl in school, has fallen in love with Edward, who is, inconveniently (or at least, challengingly) a vampire. It goes from there, with many near death experiences, other angry vampires, obsessive love and lots and lots of not having sex. (Until the last book, that is, and you should just wait for the consequences of that. You do not want to give birth to a baby vampire, all I'm saying.)
There's been a lot of feminist criticism of these books, but girls across the world love them. Just love them. And so, when it became known that popular actress Stewart was dating – in real life! – hunky Robert Pattinson, who plays Edward in the movie, well, it was almost more than the Tween world could handle. As much as they lurved Bella and Edward, they double lurved Kristen and R-Patz. They called the duo "Robsten." Seriously.

And then, Mr. Sanders had to come along.
---