Back-to-school shopping shocker: $700 for first-grade supplies?
(Read article summary)
Back-to-school shopping trends report suggest the average – that's average – cost of kindergarten through 12-grade classroom supplies is close to $700. Time for a funky vintage school supply fad?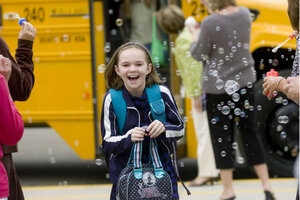 Rebecca Catlett/AP/File
I needed to sit down and breathe into the type of brown paper bag I will pack lunches in after seeing a new report detailing the current cost of sending a child back to school at the end of this month.
The average cost of back-to-school spending for kindergarten through 12th grade is $688, according to The National Retail Federation, up from $603.63 last year. Average college back-to-school costs this year are expected to be $907, $100 more than families spent last year.
My sons are entering third grade, eight grade, 12th grade, and college this fall. I am doomed!
RELATED: Are you a Helicopter Parent? Take our quiz!
While waiting in line at the supermarket I heard a woman on the phone seriously asking, "Has an iPad become an essential this year, or should I just go with a smart phone?"
It wasn't until a lot of "uh-huhs" later that she looked down at the 8-year-old beside her and said, "We'll go look at iPads for school right after this."
Given half a chance, I am sure many students would argue in favor of the device, along with a host of fashion-forward "must haves" currently vying with the Olympics for our attention. I suppose I just thought those students would be teens, not tots.
---