Compassion Games: Survival of the kindest right at my front door
(Read article summary)
The Compassion Games – a volunteer effort to put the Golden Rule on everyone's agenda – is playing out this week in Seattle; and this mom found a perfect example of compassion right at her front door: A Norfolk Va. sheriff's officer standing guard over three squirrel pups fallen from their nest.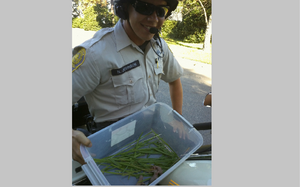 Lisa Suhay
As parents, we spend so much time being told we must work to make our children smarter, faster, better, stronger, and leaner, there's some relief in a "reality game" being played out over the next week in Seattle: The Compassion Games - Survival of the Kindest.
There may not be gold medals, but organizers and parents hope the result will be a community populated with those who have hearts of gold.
It's great to see a national movement that adds "be more compassionate" to the list of parenting to-dos.
RELATED: Are you a Helicopter Parent? Take our quiz!
The event challenges residents to act and inspire their neighbors and children to make their community a safer, kinder, better place to live through volunteerism and random acts of compassion.
The games originated in Louisville, Ky. with Mayor Greg Fischer who was following the Charter for Compassion created by 2008 TED Prize winner Karen Armstrong.
Fischer is part of the international Compassionate Cities campaign, an international movement to enact The Golden Rule around the world. Fisher then threw down the gauntlet challenging other municipalities nationwide to out-good-deed them: "I've said from Day 1 that we're going to pursue being recognized as the most compassionate city in the world – and if that prods other cities to try to outdo us, then 'Game On.' In a competition centered on compassion, everyone wins!"
---