Food stamps for pets provide more wiggle room in the home budget for 'Fluffy'
(Read article summary)
Food stamps for pets hopes to prevent pets from getting squeezed out of the home as family's tighten the financial belt. A donation-based program, food stamps for pets would provide pet chow to low-income families and food stamp recipients.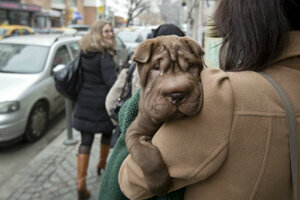 Associated Press
As the economy continues to eat away at our budgets, struggling families are having to make the decision to tell the kids that a beloved animal companion must be sent to a high-kill shelter because there's no room for "Fluffy" in the budget. Food stamps for pets is a new idea that can rescue parents from ever having to make that kind of choice.
According to ABC News, there's a new donation-based program (at the time of posting, the website was down due to high traffic) to help families keep their pets. The Pet Food Stamps program wants to provide food stamps for pets of low-income families and for food stamp recipients who otherwise could not afford to feed their pets. This program helps all kinds of pets, including reptiles, with food aid.
We have four sons (one in college and one about to go in the fall), a big dog, two cats, and a mortgage. This is something I was glad to see happen.
The News-Herald, Ohio, recently reported that while the number of pet adoptions has remained steady, the number of surrendered pets from struggling owners has grown.
Geauga Humane Society Executive Director Hope Brustein told The News-Herald many animals are brought to Rescue Village in Russell Township because owners have lost their jobs or homes and tight budgets can no longer support them.
"There is no doubt that the economy impacts animals," Brustein said.
It also impacts our children when we have to make the decision to cut loose a furry or scaly member of the family. I feel like the message a child receives from all this is that when we run out of things and then four-legged loved ones to toss overboard to keep this ship afloat, "You could be next." It's like a Shirley Temple movie.
---