Pew modern parenthood survey: Fathers caring more – at our house, too
(Read article summary)
Pew survey gives new picture of the hard work modern parenthood is. Dads are helping out – and worrying – more, just like moms. Pew could be describing our house.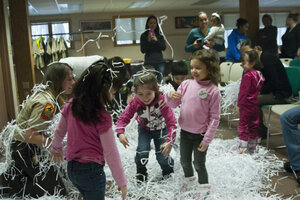 Robert Youngs Jr. / Associated Press
While working parents didn't need the Pew Research Center study, released today, to tell them modern parenthood is a perpetual stress test, it's nice to have the formal research and numbers to bolster the argument that hiring a parent is a very safe bet because, while stressed, we are effective, experienced multitaskers with great managerial skills. One thing the study points out is that parents are also worried about not getting enough work opportunities to support their kids.
Because being a parent can be viewed as a negative to some employers, I advise job-seeking parents to put this Pew study in your LinkedIn profile and submit it with your résumé to prospective employers.
"Roughly 60% of two-parent households with children under age 18 have two working parents. In those households, on average, fathers spend more time than mothers in paid work, while mothers spend more time on childcare and household chores. However, when their paid work is combined with the work they do at home, fathers and mothers are carrying an almost equal workload," according to the Pew study, based on a survey of 2,511 adults nationwide conducted Nov. 28 to Dec. 5, 2012. (The study also included an analysis of the American Time Use Survey (ATUS), which in 2003 began surveying Americans by phone to measure the amount of time people spend doing various activities throughout the day.)
"At the same time, roughly equal shares of working mothers and fathers report … feeling stressed about juggling work and family life: 56% of working moms and 50% of working dads say they find it very or somewhat difficult to balance these responsibilities." Of course it's difficult, so is becoming a chess grandmaster but Susan Polgar did that and has kids, runs a foundation, teaches, and coaches college players to multiple national championships.
I know Ms. Polgar and have seen the stress hit her like a Mack truck on occasion and then she doubles-down and gets her game face on as she heads off to work. That's what parents do.
---