David Hasselhoff, Katidis' 'fatherland' furor: Think global, parent local
(Read article summary)
Actor David Hasselhoff and Greek soccer player Giorgos Katidis are making news today for actions surrounding German history. The former, noble, the latter, disastrous. David Hasselhoff and Giorgos Katidis emphasize the need to think global, parent local.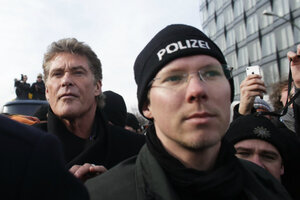 Markus Schreiber/Associated Press
Greek soccer star Giorgos Katidis apologized for giving the Nazi salute on the field, allegedly without knowing what the symbol meant, and actor David Hasselhoff defends the last bricks in the Berlin Wall from demolition so that future generations may both honor the dead and learn from a nation's history. In both cases, it's a furor over the German "fatherland" that reminds us to think globally; parent locally.
It also takes us to understanding the difference between parenting lessons to be found in objects versus in the everyday actions of people. An inanimate object, such as a remaining fragment of the Berlin Wall or the beams left standing after the 9/11 attacks on the World Trade Center that resemble a cross, serve as memorials and lessons.
However, actions speak louder than bricks and steel. Seeing the Nazi salute on television and YouTube is an ongoing action insinuating itself into our kid's lexicon of everyday gestures, with disastrous result.
The story of AEK Athens midfielder Mr. Katidis, 20, is a cautionary one. According to Reuters, Katidis gave the traditional stiff-arm Nazi salute after he scored his team's winning goal. AEK's German coach Ewald Lienen told Reuters, "He is a young kid who does not have any political ideas. He most likely saw such a salute on the Internet or somewhere else and did it without knowing what it means."
That's not entirely impossible to believe as the mother of four boys who I have occasionally caught saying something socially offensive that they were just parroting from a YouTube video. That's what that PG rating is all about in film and TV, parental guidance is required for much of what our kids are absorbing.
My maiden name is Goldenthal, my father's side of the family is German and Russian Jewish, and seeing the news today has a very personal effect on me because of what my father taught me about history and our heritage. However, I realize that my sons, all raised Roman Catholic like me, with a name that does not immediately garner attacks from the anti-semitic, may not understand the deeply troubling nature of the neo-Nazi salute.
As a parent, it's my job to educate them and call this to their attention so they can understand the gravity of what may seem like a funny or popular "new" gesture. I believe we need to pick our battles about what to address as silly, rude, and mildly inappropriate versus gestures, symbols, and sayings that our kids may use innocently and find themselves branded as something they're not.
---