WWE star saves mom from fire using tree, overkill? My kids loved it
(Read article summary)
WWE star saves mom: When someone locked his mother into her home and set it on fire, WWE star Chris Masters didn't wait for the police to act. He uprooted a tree and smashed it through a window. My kids loved it, but a tree? one wondered. 'What's wrong with a rock?'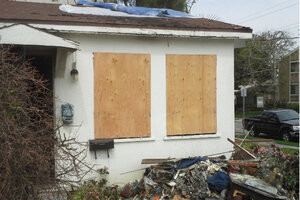 Chris Masters' twitter
There is only one occasion when seeing your son uproot a tree and slam it through your window is cause for celebration and former WWE wrestler Chris "Master Lock" Masters tumbled to it when he saved his mom from a captor who'd set her house on fire with her in it. In doing so, he smashed a favorite bully weapon by giving the term "Mama's Boy" a fierce makeover. He also has my sons thinking about what they would have done to save Mom.
Mr. Masters, whose real name is Chris Mordetzky, got a call from his uncle saying that a neighbor had locked himself in Masters's mother's Los Angeles home and threatened to burn the place down if anyone tried to come inside, according to the wrestler's Twitter feed. Masters decided not to be dictated to by the home invader and called the police — then the neighbor set the house on fire with Masters' mom inside.
While there are those who say pro wrestling in the WWE is all just play acting, Masters was not playing around when he decided against waiting for police and, instead, went rushing to his mother's aid.
Masters arrived on the scene and, as police struggled to find a way into the burning house, he uprooted a tree and used it to smash in a window and save his mom.
"Thanks for all your thoughts and prayers.... Moms resting comfortably with me at my place," Masters posted on his Twitter feed, which is filled with photos of his mother's home. "Heres the aftermath.So thankful my moms alive!!!!!!!!!"
I bet his mom excused the swearfest that ensued in his posts after he very satisfactorily took down the bad guy and rescued her. Profanity aside, the incident has my sons debating how they would save me in that situation and I have the feeling the landscaping's going to suffer before this day is out. The fact that Masters chose a tree as a tool has Team Geek here at my house in an uproar. Masters is the new social media meme fodder with my boys saying things like, "A bulletproof vest wears Chris Masters for protection" and "When Bruce Banner gets mad he turns into the Hulk. When the Hulk gets mad he turns into Chris Masters. When Chris Masters gets mad, run!"
---