89-year-old kidnapped by teens: Family says 'no more driving'
(Read article summary)
89-year-old Margaret Smith, who was locked in the trunk of her car by two teen girls who asked her for a ride, won't be allowed to drive again if her shaken family has anything to do with it. But Ms. Smith's belief in helping people remains unmoved.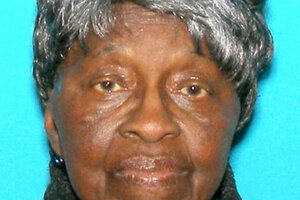 Delaware State Police/AP
Milford, Del. resident Margaret Smith, 89, didn't reach that ripe old age by avoiding the risk of helping others. However, after making national headlines for being locked in the trunk of her own car for two days in the bitter cold by two teenage girls she assisted, suffering as her tormentors took a high-speed joyride and later robbed her, Smith's family insists she alter her ways for her own safety.
"My sister will not be allowed to drive a car, or anything, anymore," said Christina Carroll, 79, firmly announced in a phone interview regarding her older sister Margaret. "This is not happening again." Spoken like anyone who has ever had a ferocious scare put into them by the unconscionable actions of a stranger.
Ms. Carroll, and five of her six living siblings, there were 13 in all, have morphed into helicopter parents to their elder sister out of love and fear for her safety. She added, "We need our sister safe. We need this to never happen again."
According to the New York Times, Smith had stopped at the Chicken Man Convenience Store in Milford for a butter pecan ice cream cone when two teenage girls approached her and asked for a ride across town. The girls allegedly grabbed her keys, stuffed the octogenarian in the trunk, and took off on a joyride with Smith in the trunk. She was released two days later, but only after the girls robbed her.
Smith told ABC News that while she'd hesitated when asked by the girls for a ride, her good nature won over in the end and she decided, "to do a good deed."
When Ms. Carroll put Mrs. Smith on the phone this morning she talked about how she feels about the prohibition of her driving, curtailing of her long-held freedoms and being pressured to stop living alone. All of this change, she and her sister both say, comes as a direct result of the actions of the girls she thought she was helping.
"Well, I'm not jumpin'-happy about it I can tell you that," Mrs. Smith said. "I'm in the land of the living and that's a good thing. Now, I suppose you could say I am having some adjustments in my life that are going to take some time to adjust to."
---