Moms are getting schooled: Record amount of mothers college educated, Pew says
(Read article summary)
A Pew Research Center study, out today, says a record amount of moms are college educated. The more educated the mother, the better off their child is going to be.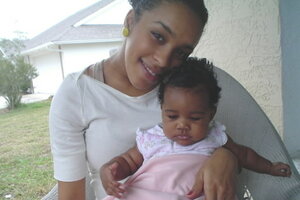 Courtesy of Sheena Payne/American InterContinental University
A new study of the impact of education on child bearing released today, "Record Share of New Mothers are College Educated" by the Pew Research Center, indicates that educating women beyond high school improves the health, social, and educational wellbeing of their kids, while the poorly educated get more children, both out of wedlock and much sooner.
The study confirms the more education a mom has, the better off her children will be in the short and long term by virtue of the fact that among all women with infants in 2011, the largest share, 54 percent, were married with at least some college education. This was compared to only 17 percent in 1960, according to Pew.
That increase appears to have resulted in women who wait to have kids and get married before becoming mothers. The children resulting from those more educated unions are healthier, full-term babies brought into more economically sound households, Pew researchers discovered.
"The current pattern of fertility and marital status is largely due to the close link between marriage and educational attainment," the report says. "Women with college experience are more likely to be married than their less educated counterparts.
"On average, a mother with more education is more likely to deliver a baby at term, and more likely to have a baby with a healthy birth weight. As they grow up, children with more educated mothers tend to have better cognitive skills and higher academic achievement than others. It is difficult to determine whether maternal education is causing some of these outcomes, or if it is serving as a proxy for some other causal factor (for example, economic well-being). What is irrefutable, though, is that on average the more education a woman has, the better off her children will be."
---