Chicago school closings: Shuttering these institutions is shortsighted, says one local mom
(Read article summary)
Chicago school closings are the largest number of school closings in the history of the country, and media reports haven't captured the anguish and dismay of more than 30,000 children and parents as they've lost their educational institutions.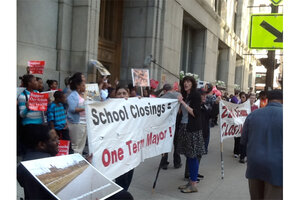 Hannah Hayes
In my neighborhood tonight, chaos will reign. My neighbor, President Obama, will be staying in his part-time home just around the corner from me in Chicago. His occasional visits bring limited parking, random ID checks, and bomb sniffing dogs to our front lawn.
But on warm summer nights, the street takes on a carnival-like atmosphere. Neighbors come out to chat and I sometimes get to meet people from the next block. The Secret Service agents are friendly enough, and when the barricades go up and traffic halts, people get out of their cars to stretch and enjoy the novelty of the president driving down this normally quiet residential street. More often than not, we recognize someone and invite them to join us for a drink on our stoop.
It can be inconvenient if you happen to be walking your dog without identification. But he was once our neighbor, and it's all a part of living in this neighborhood.
But I'm not feeling all that benevolent these days, and I may forego my usual stoop-sitting tonight. The truth is, a much more serious chaos has reigned in too many of Chicago's communities following last week's announcement that 50 Chicago neighborhood schools would be closed.
The closings made national news briefly, just like the murder of Hadiya Pendleton, the sparkly teen wielding a baton in the inaugural parade for President Obama, her Chicago neighbor. She was also a neighbor of mine and lived about a mile from my and the president's homes.
Since Hadiya was killed in late January, the murders of 26 more teenagers did not make the news. Similarly, the brief blip last week about the largest number of school closings in the history of the country does not recount the anguish and dismay of 30,000-plus children and parents scrambling, wounded, and angry.
---