Minecraft: The video game kids should waste time on this summer
(Read article summary)
Minecraft is a digital 'sandbox' game – a video game designed to allow users an infinite ways to interact with the game world.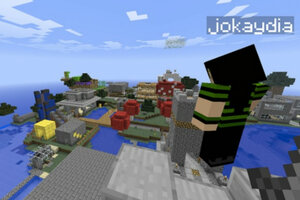 Screenshot by "Kerry J" at Flickr.com (Creative Commons licensed).
Reporters and reviewers write about Minecraft as if it's just like any other video game. Even this highly readable piece about its creator (Markus Persson, aka "Notch") and its parent company (Mojang) by Harry McCracken in Time magazine doesn't cover what makes it different from other games specifically for its kid (and parent) players. But he does bring out this extraordinary differentiating factor:
"No less lofty an authority than the United Nations sees Minecraft as a tool to improve human life. Last September, its U.N.-Habitat agency teamed up with Mojang to launch a program called Block by Block. It will use Minecraft to digitally reimagine 300 run-down public spaces in the next three years, giving people who live near them the chance to chime in on how they might be improved. First up: a dilapidated park in Nairobi's business district and parts of its Kibera slum" (Kibera is home to some 1 million people – see this).
Distributed and shared safety
As for what might interest Minecraft players' families is not only how it's different from other video games but what it shares with all social media: distributed, collective, and/or shared safety (pick one adjective, but they all work). This game that looks like a virtual-LEGO land is literally all over the Internet and world. It's not hosted by its so-called parent Mojang in Stockholm. It's hosted and played on public and private servers all over the world, and it's the ultimate example of what online safety is now and from now on in our very social media environment and connected world.
---