Why Daddy doesn't refer to himself in the third person
(Read article summary)
What's with the Mommies and Daddies who refer to themselves in the third person? This Daddy – 10 weeks into his first child – doesn't think parenting is so unusually tough that it justifies flouting social norms.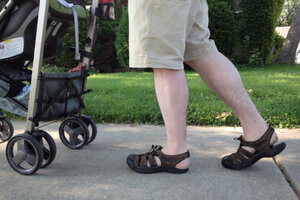 Courtesy of Becca Dilley
Keeping within the spirit of this post over on Disney's Babble site that exhaustively justifies why Mommy refers to herself in the third person, (this particular) Daddy takes a crack at why he doesn't feel quite as comfortable following suit. Daddy further addresses why the annoyance of non-parents is actually something he still relates to, at least for the time being.
The gist of Allana Harkin's post goes a little something like this: You non-parents have no idea how difficult it is to have your regular routines and, therefore, personalities eviscerated by the all-consuming ordeal of parenting, and therefore if we constantly refer to ourselves in the third person and speak only of our children, our children's friends, our children's future prospects, and parenting topics in general, it should be excused by the fact that being a parent is the most important and challenging thing anyone could possibly contemplate, and the only reason you don't get that is because you don't have kids.
Daddy's take on that: nuts. From Daddy's point of view, legitimately difficult things that allow you to flout social norms (i.e., using the third person when talking to friends, talking only about yourself and/or your family, getting defensive about other people taking offense at either of those first two points) include the following: working in an emergency room; being a homicide detective or beat cop; serving just about any role in an overseas warzone; fighting forest fires. That's not an exhaustive list, but you get it – if you want to talk about challenging, crazy, rules-changing things to do, pick a career with life-and-death stakes that exposes you to constant stress.
---