School bus fight: School discipline experts say driver made right call
(Read article summary)
School bus fight: Bus driver John Moody, 67, did what he was taught to do when a school bus fight erupted behind him. He called 911 and urged them to hurry.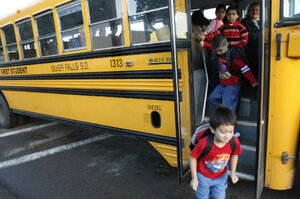 AP Photo/Statesman Journal, Lori Cain
When a 13-year-old boy was being brutally beaten on a school bus in Gulfport, Fla., the driver, John Moody, 67, had to make a desperate choice – fight, flight, or phone for help. He chose the final option.
"You gotta get somebody here quick, quick, quick, quick," Mr. Moody could be heard saying into a phone on a video recording of the fight. "They're about to beat this boy to death over here."
The driver followed the district's rules by not physically intervening and instead calling for help. Per district rules, he's not required to break up a fight unless he feels it's safe to do so, ABC Action News reported.
Moody retired six days after the July 9 fight in Pinellas County, Fla.
Follow the rules or follow your instinct to defend the victims – those involved in education face this kind of choice daily.
This morning I was on the phone with a friend, Warren Stewart, a former Virginia teacher who once headed his school's discipline program.
Today, however, he's at his vacation home in Sunrise, Fla., where he says he's surrounded by people debating this story.
"This is all anyone here is talking about and having been in that kind of situation many, many times, I've been doing a lot of the talking," Mr. Stewart says. "The driver absolutely did the right thing. He did what he was taught to do. He did what was legally correct to prevent a lawsuit."
Stewart added, "I personally would not have been able to avoid stepping in physically to stop that fight."
However, Stewart, who is the same age as Moody, is also a black belt in taekwondo with the moral compass of Captain America.
---