How to get children to read? Embrace the e-book
(Read article summary)
Despite fears digital literacy could overshadow children's reading skills, studies show that kids are delving into the literary world more than ever through eBooks, electronic readers, and audio books.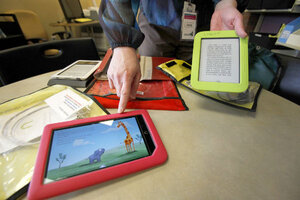 AP Photo/The Durango Herald, Shaun Stanley
A lot of us parents worry that the expansion of digital technology into our children's lives will result in them reading less than kids of previous generations.
It turns out that we needn't worry at all. Children today are reading more than ever, in both digital and print forms, says a Scholastic Kids and Family Reading Report.
What steps can parents take to ensure their kids become enthusiastic lifelong readers?
Embrace the e-Book
Half of children ages 9-17 say they would read more books for fun if they had greater access to e-books, according to the Scholastic report. E-books, in particular, are motivating boys and reluctant readers, who are reading e-books for fun in record numbers. E-books needn't replace the printed book – 80 percent of kids who read e-books still read print books for fun. Having multiple options simply means more reading opportunities in many children's lives.
Take your Reading with You
Tablets and e-readers make it easier than ever to take your reading along wherever you go – in the car and during other travel, in waiting rooms, and local parks. And there are increasingly more great devices for reading e-books. The digital subscription service Bookboard provides access to a library of children's books (audio and non) for the tablet, in a playful system that harnesses the natural interest kids have for technology and helps to motivate them to read by rewarding them with books appropriate for their age, reading level, and interests. Audio books, in particular, have proven a very effective tool for kids who have difficulty reading.
---