Drug 'Molly': What parents need to know about drug slang
(Read article summary)
The drug 'Molly,' also known as ecstasy or MDMA, has become a popular conversation topic for teens wanting to appear 'in the know.' But drug slang can have this effect: When you talk the talk, others may expect you to walk the walk.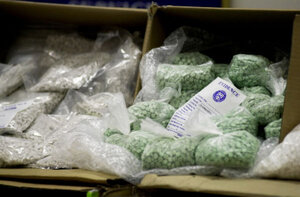 AP Photo/Nick Ut, File
"Molly" isn't your teen's friend, but the drug that goes by that name may be a classmate or TV buddy, so it's time to get to know the new killer on the block.
Drug street names are to teen culture as drugs are to concert goers, addictive and potentially dangerous because they serve the dual function of marking our kids socially as both "cool" and open to trying drugs.
"Molly," slang for molecular, is the pure crystalline powder form of the popular club drug MDMA, which, in pill form, is known as ecstasy and is often mixed with other substances, such as caffeine," according to USA Today.
The drug made headlines over the Labor Day weekend after New York's multiday Electric Zoo Festival (EZoo) was shut down because two young people died of suspected Molly overdoses, USA Today reported. A similar incident also took place at Boston's House of Blues last week, another suspected Molly overdose death.
I have noticed that drug dealers appear to be getting smarter about what they name their products, which makes them blend more easily into conversation undetected.
Drug culture has saturated the lives of teens via mature shows like "Breaking Bad," which seems to have become a slang phrase generator of epic proportions. For example, my sons, ages 18 and 19 watched the AMC show Breaking Bad online and began making cultural references in front of our two younger boys, ages 14 and 9.
Teens of all ages watch shows and distill the words via a chemical process akin to a mental meth lab, taking away only the crystalized nuggets which they then pass around at school and other social settings.
For younger kids, speaking these buzz phrases earns "street cred" and acceptability for being privy to subject matter far beyond their life experiences.
However, when you talk the talk others may expect you to walk the walk.
---