Posting kid pics online: Parental bragging right or invasion of privacy?
(Read article summary)
Facebook can be an easy way to share baby and kid photos with family and friends, but when should parents start asking their children for consent?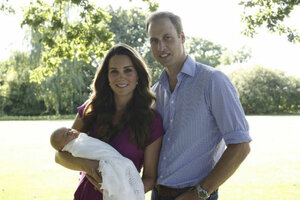 AP Photo/Michael Middleton/TRH The Duke and Duchess of Cambridge
This is a perennial question, but it's good that it keeps coming up. In Disney's Babble.com, parenting blogger Katie (last name wisely not provided for her son's privacy), again asks when a child's right to privacy kicks in and whether parents are violating that right by sharing photos in social media.
"I believe that yes, my son has a right to privacy," she writes, "but I also believe that [with her baby] at 14 months, it is my job as his mother to decide what is an appropriate amount of sharing/privacy and that it is possible to share pictures and stories without violating that right." She discusses how there's no single right answer, that each family has to find the right place for its kids on a kid-privacy spectrum from no online photo sharing at all to sharing privately to sharing a whole lot publicly. She shares only occasionally (admirably trying not to post anything that would be embarrassing if mother-son roles were reversed) and doing a cost-benefit analysis, the benefit being the support system that comes with sharing our lives.
Four years ago Lisa Belkin put a similar question to readers of the New York Times's "Motherlode" column, but instead of asking when a child's right to privacy starts, she asked "at what point do parents lose their right to their children's tales?" Then she elaborated in a way that really pulls you up short: "When do things stop being something that happened to 'me' and start being something that happened to 'them,' and therefore not 'mine' to tell?"
---