Miley Cyrus 'Wrecking Ball': To join or not to join the angry (curious) mob
(Read article summary)
Miley Cyrus and her new nude music video 'Wrecking Ball': Record numbers click on her newest shock. But perhaps viewers might consider whether expressing that shock in public forums isn't contributing to someone's wallet and another's downfall.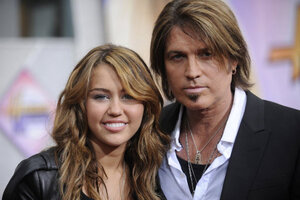 REUTERS/Phil McCarten/Files
In the midst of the firestorm surrounding the twerking, bare-all "Wrecking ball" ways of Miley Cyrus it's easy to join the angry mob when perhaps we should consider whether our public outrage is fueling the marketing cycle that drives female performers to more self-destructive heights.
Lindsey Lohan, Miley Cyrus, Amanda Bynes, are all in seemingly perpetual self-destruct mode, casualties of the relentless marketing of young female Disney child stars, driven from one phase of stardom to another.
The patterns seems to hold: Loveable child star goes rogue, burns out, tanks, fans turn on her and she finally gets it together for a glorious Disney ending comeback.
We loved them as children and now we cry out over what they've become. Television made them our children and in that everlasting role we can't seem to stop paying attention to their exploits and rooting for the turn-around. Brittany made it, maybe they can too.
In her new video Cyrus begins in her underwear and progresses to total nudity (but for a pair of shoes) while on a wrecking ball, singing about how her lover has turned her into a wrecking ball in life and in the process destroyed her.
Viewers quickly filled the comments section her video with the majority saying they actually liked the song but the video wrecked it for them.
This backlash, however, will not likely get the video pulled, dampen sales, or deter the young star from future nudity and scandal.
In fact, given the way marketing works today it's likely to bring more of the same because ultimately Cyrus' name and therefore her "brand" is trending at number one on Yahoo and Google trends today.
---