America's Cup: Winning at all costs
(Read article summary)
Oracle Team USA won America's Cup yesterday, but only one of the 24-person crew is an American, leaving one mom to field questions from her kids about the value of 'winning at all costs.'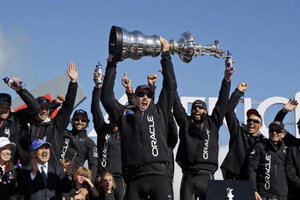 AP Photo/Marcio Jose Sanchez
The USA managed the greatest comeback in the 162-year history of the America's Cup, beating New Zealand with grit, determination and all the brilliance in sport Americans are known for making Australian, New Zealand, and Canadian moms proud because it was mostly their sons and not ours captaining and crewing the boat.
There was only one American-born citizen on the winning 24-man American boat, Rome Kirby, 24, trimmer/grinder. A grinder is the guy winding the winches to pull in, let out, haul up, or bring down sails. It is the most physically punishing job on a yacht.
"Fellow American, John Kostecki, a tactician, was replaced on the boat by Britain's Ben Ainsle after Oracle lost 6 of the first 7 races in the series. Since then, Oracle has stormed back to even the series at 8-8," according to The Wall Street Journal.
This win gives weight to the expression "to win at all costs" by America once again purchasing national pride.
It's become a trend here in our nation that when another nation beats us in sport or technology our solution is not to make our own people better by investing in programs here that raise the level of American kids' performance, but to import and re-label the success we import.
I watched this revelation come to my son Ian, 18, this morning at the breakfast table as we discussed the epic victory after a week of watching the races with his father. We are a sailing family. We lived aboard a 38-foot long Columbia Yawl rig sailboat and later a 37-foot Jim Brown design trimaran when Ian was little. His father is a Laser racer and Ian has spent summers and winters running the committee boat for various races locally.
"Wait, what?" Ian said when I showed him the WSJ story. "Did America just win by beating New Zealand with an Australian captain and mostly New Zealand crew?"
---