Muslim head scarf controversy: When does curiosity become discrimination?
(Read article summary)
A Hampton University student claims school staff told her she would need 'proof' of her religion to wear her traditional head scarf in her ID photo. Why, in a nation founded on religious freedom, are Muslim women being asked to provide documentation to practice their faith?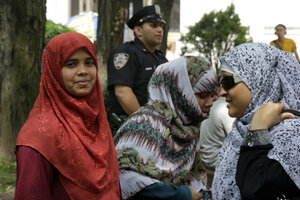 Richard Drew/AP
Often I am stopped in the street by random people who usually point to my hijab and ask in a loud, slow voice, "Where are you from?"
When I reply with a straight face, "I am from here, where are you from?", they are usually taken aback and continue to make more loaded and ignorant comments like "Oh, that's why your English is so good!"
I understand that some people may be curious as to why I cover my hair, but there are limits to when such questions can be asked. Having friendly conversations with co-workers, classmates, and neighbors about hijab while getting to know one another is absolutely fine. In the freedom of America, this shouldn't become an interrogation of my Muslim beliefs in the supermarket checkout or on the treadmill at the gym.
But that's what it sometimes becomes as in the case of a Muslim student at Hampton University, in Hampton, Va., who was recently asked to provide documentation of her Muslim faith in order to be photographed in hijab for her school ID. Otherwise she would have to remove it.
Melonna Clarke brought back a written note from her local mosque stating that she is indeed a Muslim and that the hijab she dons is part of her religious identity.
This comes just a couple of weeks after retailer Abercrombie & Fitch settled a lawsuit filed by a Muslim woman for refusing to hire her because of her head scarf.
---