Amber Rose shapely selfie reminds mom to stand tall
(Read article summary)
Amber Rose: Shapely selfie of entertainer Amber Rose post-baby reminds one mom of four to stand tall and smile for the camera.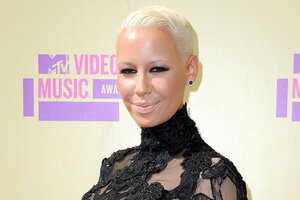 Jordan Strauss, Invision/AP
Model Amber Rose posted a shapely post-first baby selfie, which was far less impressive than the mommy selfies posted by older moms who still face a camera, even if they must deploy their kids as human shields between them and the camera.
Oh sure, it's easy to preen in front of a camera phone after losing weight from a first baby, but what about moms who have lost the diet war but won the kid lottery? Just working out our issues and getting in front of a camera during the holiday season can be an accomplishment.
My husband recently went on a photo framing kick and found pre-kid bikini photos of me. I realized I'd finally reached the stage when my "before" pic is better than the "after."
I am going out on a limb and guess I am not the only parent in that situation. Between our pre-baby pics and superstar selfies, it's a holiday miracle if we don't go into hiding.
However, I speak as the voice of Christmas cookies past when I say moms of all ages need to remember those child birth breathing exercises when we look in the mirror years after baby is born.
Here's a pro tip: A shrewd mom does a selfie with a child on her lap when she snaps the picture.
I had taken myself out of the picture, literally, until I realized kids can take it very personally when you duck out of holiday and family photo ops because you're more concerned with how you look than how they feel.
My solution, and that of many I have seen online, is to scrunch yourself down behind the kids.
In my case that's easy because I have four sons, one age 20, two towering teens and the "baby" age 10. I just sneak in behind the wall of tall and "presto!"
Then comes this pre-Christmas selfie of Ms. Rose to send moms and even grandmas fleeing in horror from the lens.
Rose's selfie even affected my mom, age 83.
---