'Duck Dynasty' flap: Free speech and knowing when to zip it
(Read article summary)
Duck Dynasty: As Duck Dynasty patriarch Phil Robertson's personal comments continue to smolder, a mother teaches her kids the importance of free speech – and knowing when your opinions can hurt others.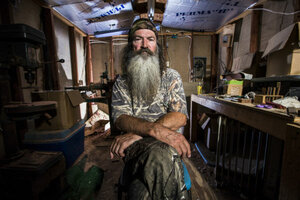 A&E/AP
No sooner did I write about the virtues of "Duck Dynasty" for its good, clean fun and quirky family watchability, than the head of the Robertson clan got any mention of the show entirely banned from our home.
It started when "Duck Dynasty" patriarch Phil Robertson paraphrased the Bible in a GQ interview: "Don't be deceived. Neither the adulterers, the idolaters, the male prostitutes, the homosexual offenders, the greedy, the drunkards, the slanderers, the swindlers – they won't inherit the kingdom of God … Don't deceive yourself. It's not right."
"We never, ever judge someone on who's going to heaven, hell. That's the Almighty's job," he added. "We just love 'em, give 'em the good news about Jesus – whether they're homosexuals, drunks, terrorists. We let God sort 'em out later, you see what I'm saying?"
Holy smokes, Duckman!
Later, Mr. Robertson issued this statement: "My mission today is to go forth and tell people about why I follow Christ and also what the Bible teaches, and part of that teaching is that women and men are meant to be together. However, I would never treat anyone with disrespect just because they are different from me. We are all created by the Almighty and like Him, I love all of humanity. We would all be better off if we loved God and loved each other."

Not to join the Duck hunt here but, how does that foster love of all humanity and loving each other?
To really get the Ducks in the soup, Robertson then went on a spree about growing up in pre-Civil-Rights-era Louisiana, claiming African-Americans he'd met were happier under Jim Crow laws because he never heard them complain about poor treatment by whites.
The reality check there is that in those days in the cotton belt, an African-American could get brutally murdered for complaining to a white person.
---