Christmas travel in winter weather: To drive or not to drive?
(Read article summary)
Christmas travel: Sometimes the hardest decision for the holidays is whether or not to drive over the river and through the woods to grandmother's house.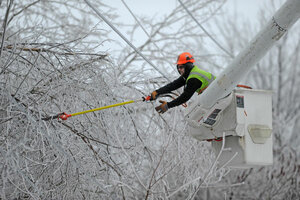 Michael G. Seamans/The Central Maine Morning Sentinel/AP
A major ice storm has taken down trees and power lines around Michigan, upstate New York, and New England, and made Christmas travel over many roads downright dangerous.
Maybe it was a mistake, sticking one of our biggest, "let's get together-iest" holidays in the middle of winter, right after the solstice and smack dab in the middle of snow-, sleet-, and ice-time for much of the country. But at this point, there's no taking it back: Christmas travel comes when it comes, and we're left trying to figure out what that means.
In the Upper Midwest where I live, the general gist of weather headlines right now is "Mother Nature's Christmas present: Cold, snow." As per usual around here, the travel decision isn't an easy one, and it depends upon the distance to travel, the route, and the expected conditions.
This year's Christmas Eve weather craziness is particularly bad, but it plays up an annual discussion that I've been familiar with pretty much since birth.
As a child, the 90 minutes from Madison, Wisc. to Milwaukee weren't too hard to manage, and my dad was always pretty determined to make the trek, but it was sometimes a fraught discussion.
---