Cursing toddler video: Why are we so intrigued by cursing kids?
(Read article summary)
Search online for the cursing toddler video posted by friends of a teen mom in Omaha, and find lots more just like it. Why are we so interested in cursing kids and why are we shooting video of them in the first place?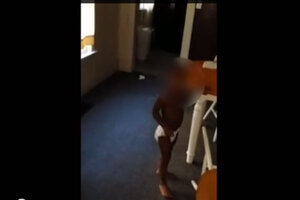 Omaha Police Officers Association
While kids can make us laugh by saying the darndest things, a disturbing video of a cursing toddler went viral this week, placing a teenage mother in hot water for what may have been a teenage prank by a guest in her home.
If there is a moral to this story it's, "There but for the grace of God go I."
The child's 16-year-old mother came forward on TV to explain that a friend of her teenage brother made the video while she was in another room and unaware of the activities, CNN reports.
Of her child, she says, "He's a smart little boy. All that cussing that he did, he doesn't do that. Somebody told him to do that. My son doesn't do that. I don't allow it."
The young mother added, "Everybody that thinks I'm a bad mother, I'm not. I'm a good mother to my son. I teach him a lot. He's very smart."
There is a lot more to this story involving ongoing gang violence in the Omaha, Neb., suburb and other family issues that, coupled with the cussing toddler video of the two young men goading the toddler into repeating obscenities, resulted in the toddler and his teen mom being placed into state care, along with the mother's 12- and 15-year-old siblings, CNN reports.
What an awful mess.
Gang issues aside, toddlers being goaded into behaviors that would be inappropriate for an adult have become so common online that I believe this is more a case of bad "punking" than bad parenting.
Many people view a child swearing or performing some rude adult behavior hilarious.
I thank my lucky stars that we lived disconnected aboard a sailboat and without a video camera during the stage when our first two boys each failed to correctly pronounce the words "dump truck." I'll let you guess how they mispronounced that second word.
---