Ja'han Jones' graceful, necessary response to Tau Kappa Epsilon
(Read article summary)
The student president of the African American Men of Arizona State University wrote to the brothers of Tau Kappa Epsilon, not 'to reprimand, or defame, or scold, but to ask with the utmost sincerity: Why?'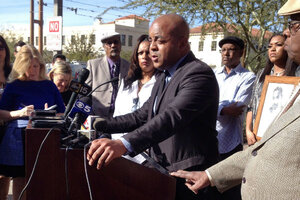 Jarrett Maupin/Brian Skoloff/AP
Ja'han Jones, the student president of the African American Men of Arizona State University, has issued a calm, caring, and measured response to the brothers of the Tau Kappa Epsilon fraternity, following the group's Martin Luther King Jr. Day "Black Party."
Mr. Jones' mature and well-crafted message underlines the need for parents to reinforce with their children that MLK Day is never a holiday from good grace, but rather an invitation for grace throughout the year.
The Brothers of Tau Kappa Epsilon apparently decided to demonstrate their mission statement "to aid men in their mental, moral, and social development for life" by throwing an MLK Day "Black Party" and dressing up as demeaning racial stereotypes.
I live in the south, where race is an issue gliding just below the surface, much like a shark waiting to break a flat, calm sea. Being born in New York City and being raised in New Jersey, it still shocks me when I hear someone here that is white grumbling, "Why do we still need MLK Day when there's a black president?"
This incident, and many more like it, is why we need to talk with our kids about racial equality more days than just one, and emphasize that mocking people, especially an entire race, is never, ever, acceptable.
---