'Web Junkie': Internet addiction a clinical disorder
(Read article summary)
The documentary 'Web Junkie' highlights China's handling of children diagnosed as 'Internet addicted' through what seem like boot-camp rehabilitation programs. But the issues surrounding the newest clinical disorder highlights attributes of loneliness in children that are not new at all.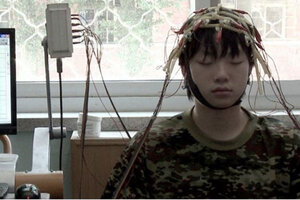 Web Junkie/Facebook
Judging by the just-released documentary Web Junkie, about a Chinese "Internet addiction" treatment center, it's loneliness that's at the heart of what the Chinese officially call a clinical disorder (more often called "problematic Internet use" in the West).
If you can get past the boot-camp-like conditions and young patients' (inmates'?) tears, you'll get to a scene – at 4:50 into the 7-min. trailer – that's just as dramatic but in a different way. The psychiatrist who runs the treatment center, Prof. Tao Ran, who is also a military officer, is talking to patients' parents, who are encouraged to stay at the center and participate in their children's treatment.
"One of the biggest issues among these kids is loneliness," he tells the parents. "Did you know they feel lonely? So where do they look for companions? The Internet. They know the Internet inside and out, but nothing about human beings."
I was struck by this statement. The treatment explicitly refers to "Internet addiction," but what it appears to be addressing – based on the patients' interviews, the footage from "World of Warcraft" and video of kids playing multiplayer online games in Chinese Internet cafes – is much more specific: so-called gaming addiction.
So much of the experience of multiplayer games is interactive and collaborative. It could well be seen as an antidote for loneliness. In saying that these young gamers know "nothing about human beings," perhaps the professor is saying they know "nothing about human beings" in offline life and relationships because there's some sort of deficit there.
---