Fast meals are missing just one thing
Rachael Ray's secrets for speedy cooking would have been very welcome years ago.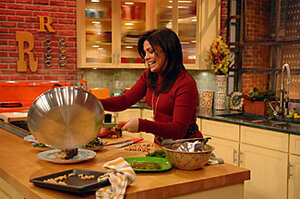 Getty Images
Have you ever watched TV's amazing Rachael Ray create her fabulous meals in 30 minutes? Smiling nonstop and chatting cheerfully, she glides around her kitchen between the stove, the refrigerator, and the sink for half an hour and suddenly – voilà! A delicious meal is there on her kitchen counter, ready to enjoy.
I just wish Rachael Ray had been teaching her 30-minute meals years ago when I was cooking for our family. There I was, spending all those hours in the kitchen getting supper for seven of us (which included our five growing sons with their gargantuan appetites}, and if I'd only known how, I could have done it all in 30 minutes.
Of course, I have to admit that Rachael Ray is better organized than I was. She manages to avoid all the little problems that used to eat up my time. For example, she never has to come to an abrupt halt in the middle of a TV show to run next door to borrow some ingredient she forgot to buy when she went to the store.
I was always missing something really important. She has everything on hand down to a teaspoon of red wine vinegar and a pinch of dried basil.
Another amazing thing about Rachael Ray is her tidy kitchen. She wields that bottle of EVOO (extra-virgin olive oil) without a drip or a drop or a splash. That requires talent. And her spaghetti sauce never boils over and runs down the sides of the pan onto the stove creating a big mess. When I was cooking for the family, the kitchen was always a disaster. I really admire her ability to keep everything so neat while she cooks.
---