No cash? Eat up, then clean up.
Some restaurants around the world let patrons pay what they can for a meal, or volunteer help in exchange for food.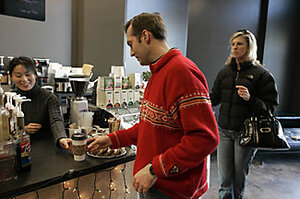 John Lok/Seattle Times/MCT/Newscom/File
Denise Cerreta remembers standing in her tiny sandwich shop, waiting for customers to walk through the front door. She had just left behind a successful acupuncture therapy practice after seven years to open a restaurant. But she had no restaurant experience, and her business was failing. On that same day, however, Ms. Cerreta had an idea that changed everything – she would stop charging set prices for the food she served. Instead, she would let people price their own food or allow customers to sweep the floors or wash dishes in exchange for a meal.
Five years later, Cerreta's idea continues to blossom at her restaurant, One World Café in Salt Lake City, and her vision to provide nutritious and affordable organic food to all has become a reality. Customers have the option of dropping money in a donation box on the counter, swiping their credit card to make a donation, or volunteering for a plate of food.
It sounds simple now, but it wasn't easy in the beginning, she says, recalling the early days. "I didn't even have a banner or a business card. I don't know how people found this place." Slowly, her restaurant garnered a niche in the Salt Lake City community through the generosity of others, such as the man who donated $200 so she could buy a banner for her restaurant.
Around the world, pay-what-you-can and volunteer restaurant concepts, such as the one adopted at the One World Café, are catching on from Denver to Vienna. And although each restaurant may have different reasons for allowing customers to pay whatever they can or to volunteer in exchange for a meal, they all share a desire to reach out to their communities through food.
---