In Oaxaca: tastes that transcend time
Fresh, seasonal Oaxacan cuisine has roots deep in the past.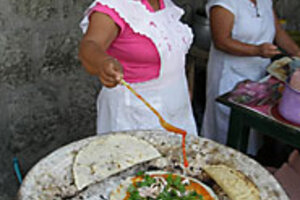 Nicholas Gilman
We arrived from Mexico City ready to explore Oaxaca. Ruins of pre-Hispanic cities, impressive colonial architecture, world-class museums, and a thriving contemporary art scene drew us to this capital city in southern Mexico. A large and varied indigenous population provides a colorful backdrop of traditional culture: Handicrafts, music, and dance are strong elements here.
We'd heard a lot about the food, too, and discovered that, from bare-bulb street stalls to chandelier-lit dining rooms, there's a range of eating experiences in Oaxaca that make it a great culinary travel destination.
Contemporary Oaxacan cuisine has roots deep in the past. Pre-Hispanic ingredients such as corn, tomatoes, beans, and chocolate plus a variety of chilies along with foods and spices brought over during the Spanish colonial era, are essential to Oaxacan cooking. The famous "seven moles," tamales, and other (corn-based snacks) are some of the best-known items on a Oaxacan menu. Fish and seafood from the coast, pork and turkey, insects such as (crisp-fried grasshoppers) and (grubs), and unusual herbs such as and (known for their strong flavors), form the basis of a traditional diet. An insistence on fresh, seasonal ingredients and a sparing use of lard and cooking oil give Oaxacan dishes a welcome light touch.
---