A pleasant surprise with purple potatoes
As far as flavor is concerned, the purple sweet potato is at the top of the pile.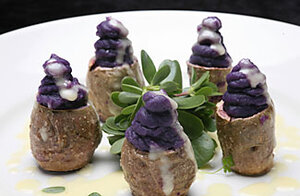 Courtesy of RW Smith Photography/Hawaii Pride
Maybe you wouldn't eat green eggs with ham, but how about a purple potato? On a recent vacation to Maui, where my cousin lives, I was invited over for dinner, "Maui style." My cousin Mark and his wife Karla live in what is called Upcountry Maui. It is where the (cowboys) live.
Getting to their house was no ordinary drive through the country. It was more like a quiet, misty ride through a safe and civilized rain forest where every living creature puts a premium on respecting others' privacy. When I got to my cousin's house, the first thing I noticed was its simplicity: It was encircled by natural landscaping in every shade of green that spilled over porches and deck railings. My cousin and his wife needed only to reach as far as the end of their backyard deck to pluck avocados, tangerines, and mangos from the trees that surround their home and which seemed to be flourishing as easily as the weeds in the backyard of my home in Atlanta.
I was told that we'd be dining on Huli Huli chicken with some "unique sides," as Mark put it. When dinner was served, my cousin and his wife explained each dish. "This is fresh Ahi tuna, and these are roasted rosemary potatoes," said Karla.
She pointed to each of the sides, all of which I was familiar with until she said, "These are purple sweet potatoes; have you ever tried them?" On my plate was a pile of what looked like purple Play-Doh. That certainly won't be tasty, I thought. I figured it would probably be all about their color, and the flavor would be nonexistent. I looked at the potatoes that were as purple as an iris. I could hardly imagine they should be eaten by anyone, except me, the dinner guest.
I spooned a bit into my mouth. Boy, was I surprised. Though the potatoes had the texture of basic sweet potatoes, there was richness in the flavor that went beyond the expected essence delivered by the common yam.
---